Rosehip Seed Oil Organic, Rosa canina(6652). Rose Hip Seed is a luxurious pure organic natural skin nourishing oil which is suitable for everyone, but is an absolute must for ageing skin. It is superbly rich in unsaturated fatty acids, mainly linoleic acid (48%) and alpha- and gamma-linolenic acid (33%). These compounds are vital for the synthesis of prostaglandines in the cell core, for the regeneration of membranes, and for the cells' defence mechanism, as well as for other physiological and biochemical processes involved in the regenerative processes of the skin. Rosehip also contains transretinoic acid which regenerates the collagen cells. Quite simply this is a wonderfully hydrating smoothing natural skincare and beauty product. Rose Hip seed oil has been used for centuries by the Andean Indians for healing purposes and skin care. For best results, make this part of your daily facial skin care routine.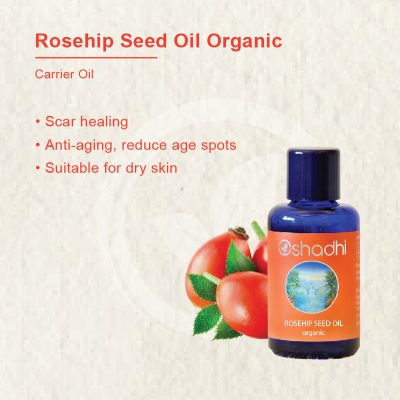 Information
| | |
| --- | --- |
| Name: | Rosehip Seed Oil Organic |
| Botanical Name: | Rosa canina |
| Cultivation: | c.org |
| Country of Origin: | Turkey |
| Part of Plant: | Kernels |
How to use:
Apply 5-10 drops daily to clean, toned skin. Simply sprinkle the oil into the palms of the hand and rub together to warm the oils. Gently press the palms of your hands to the face and neck area. No need to rub the oil in. Use it as an alternative to your usual skin care cream or moisturiser.