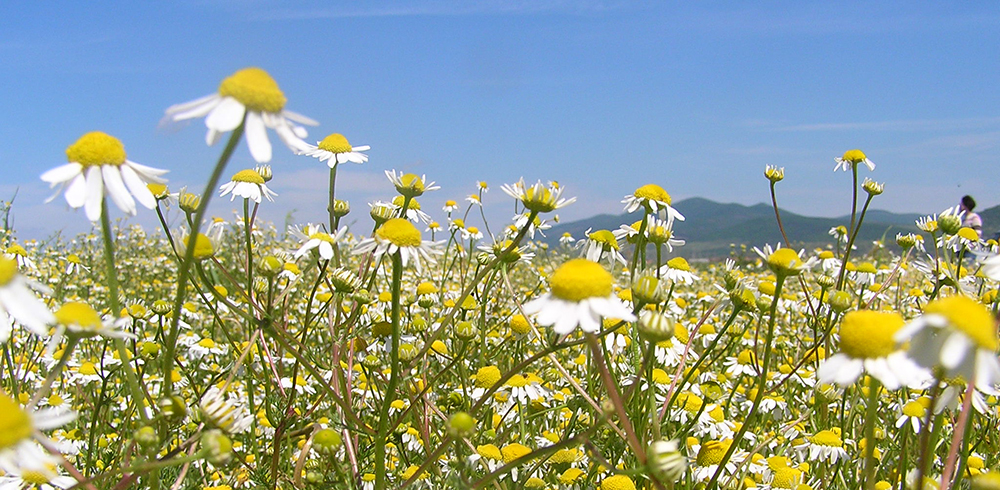 What is Blue Chamomile Oil?
Blue chamomile oil is an essential oil derived from the blossoms of the German chamomile plant (known as Matricaria recutita or Chamomilla recutita). The plant grows annually in Western Europe and S.E Asia and has delicate feather leaves on single stems. As its name suggested, blue chamomile essential oil has a bluish hue, just like the plant flowers it comes from.
Chamomile oil has been used for centuries to treat many health ailments and is renowned for its soothing and anti-inflammatory properties worldwide.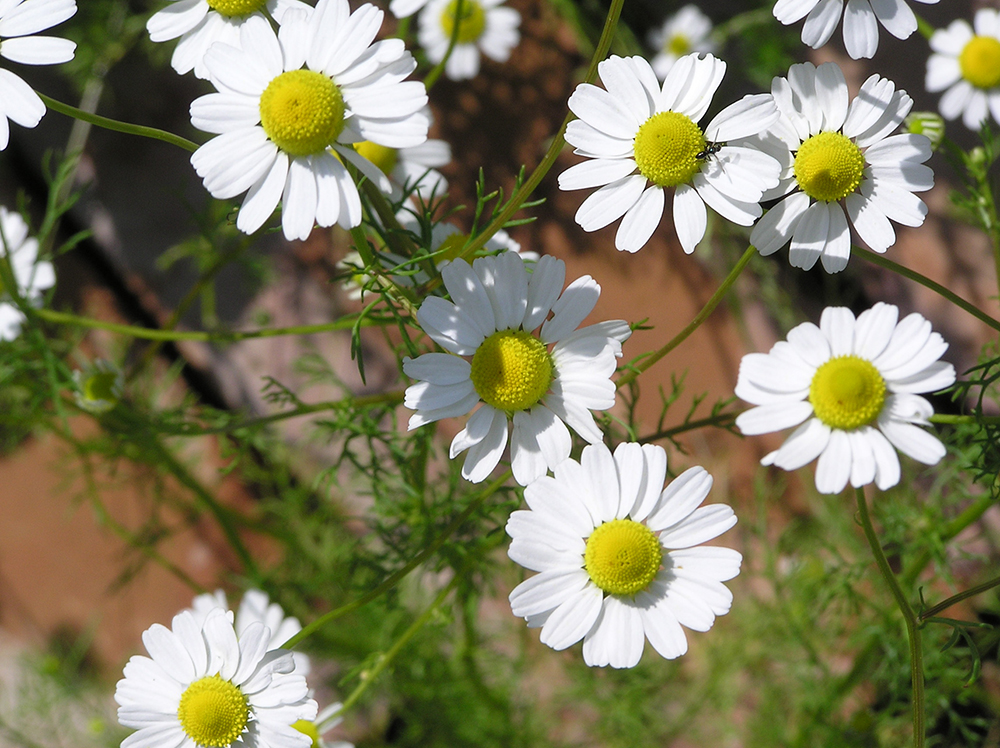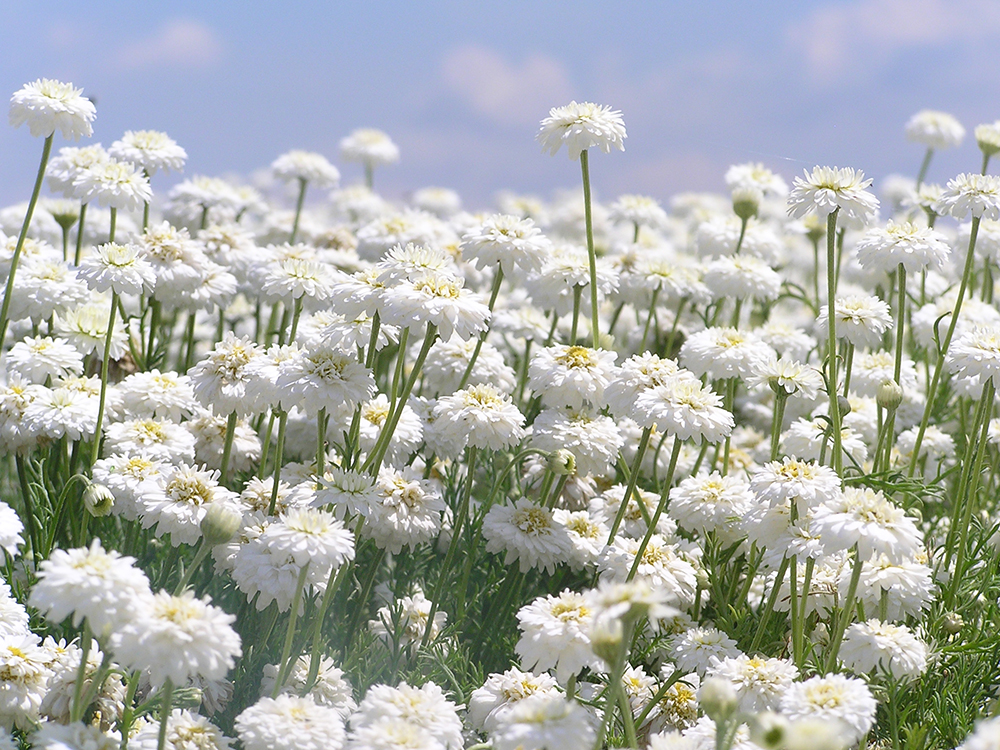 Blue Chamomile Oil Vs Other Varieties
The two main chamomile oil varieties are the German (Blue) chamomile oil and the Roman (Chamaemelum Nobile) oil. Although there are no big differences between these two varieties, there are subtle differences in colour, scent and chemical structure.
The two varieties share similar properties, however, the German / Blue Chamomile is more potent as it contains higher amounts of the compound "chamazulene" which is responsible for its anti-inflammatory and other health-boosting benefits. You can also refer the detail by table 1.
Table 1: Comparison of Blue Chamomile Oil and Roman Chamomile Oil
| Plant Name | Blue Chamomile | Roman Chamomile |
| --- | --- | --- |
| Common Name | Blue Chamomile / German Chamomile | Roman Chamomile |
| Latin name | Matricaria recutita | Tanacetum annuum |
| Chemical Compound | trans-beta-Farnesene, alpha-Bisabolol oxide, trans-alpha-Farnesene, Ger- macrene-D, alpha-Bisabolone oxide | Isobutyl angelate, Isoamyl angelate, Methylallyl angelate, trans-Pinocarveol |
| Respiratory System | ☆☆☆☆☆ | ☆☆☆ |
| Sleep/ anxiety | ☆☆☆ | ☆☆☆☆☆ |
| Sensitive Skin | ☆☆☆☆☆ | ☆☆☆ |
| Digest System | ☆☆☆☆ | ☆☆☆ |
| Kids | ☆☆☆☆ | ☆☆☆☆☆ |
| Pregnant Women | After 3 months | After 3 months |
Table 1: Comparison of Blue Chamomile Oil and Roman Chamomile Oil
Top Benefits of Blue Chamomile Oil
The use of Chamomile dated back to thousands of years ago with reports of its use by the ancient Greeks, Romans, Egyptians, Assyrians, and other civilizations. Chamomile was taken in the form of tea, salve, cold extraction oil, incense and mixed with other herbs as an extract to fight several health problems. During ancient times, the top three reasons why chamomile was used was to heal wounds, fight the common cold, and promote tranquility in religious events and rituals.
Today, here are some of the chamomile oil benefits:
Ease of Digestive Inflammation
According to some human and animal trial studies, Blue Chamomile oil and extract has been found to control diarrhea symptoms, ease the passage of gas, and fight the accumulation of fluids in the digestive tract that leads to bloating. Other studies have found that Blue Chamomile oil can fight the loss of appetite/anorexia when applied externally in the lower tummy area. Additionally, a few studies with children subjects have shown that Blue Chamomile oil can treat children's colic and fever.
Supports Good Sleep
If you suffer from insomnia and struggle to keep a good night's sleep, Chamomile oil may help. Although there is not enough evidence proving that chamomile can help with insomnia, chamomile has been used in alternative remedies for ages to calm the mind and promote high-quality sleep. The effects of chamomile seem to be temporary; However, chamomile seems to act fairly fast and without any side effects associated with sleeping pills such as addiction and drowsiness. Thus, if you suffer from mild insomnia at random times, you may dilute Blue Chamomile oil and apply on your temples, scalp, or forehead for calming purposes and ease of and sleep.
Premenstrual (PMS) Relief
Blue chamomile essential oil has antispasmodic and anti-anxiety properties, making it especially useful for treating PMS (premenstrual) symptoms such as headaches, bloating, abdominal pain, and anxiety/depression. Drinking chamomile tea and applying chamomile essential oil externally on the affected areas has been found to both alleviate symptoms of PMS as well as regulate the female hormone cycle. It is a natural and safer alternative to the drug Mefenamic Acid(MA) which women often take to ease PMS cramps.
Cold & Flu Relief
Another popular use of Blue Chamomile oil since ancient times is for treating cold and flu symptoms. Chamomile extract and oil contain antiviral and anti-inflammatory compounds which help the immune system to fight the common viruses that lead to cold and flu. Chamomile oil also eases bone and muscle cramps that often come with a cold/flu infection.
---
How to Use Blue Chamomile Essential Oil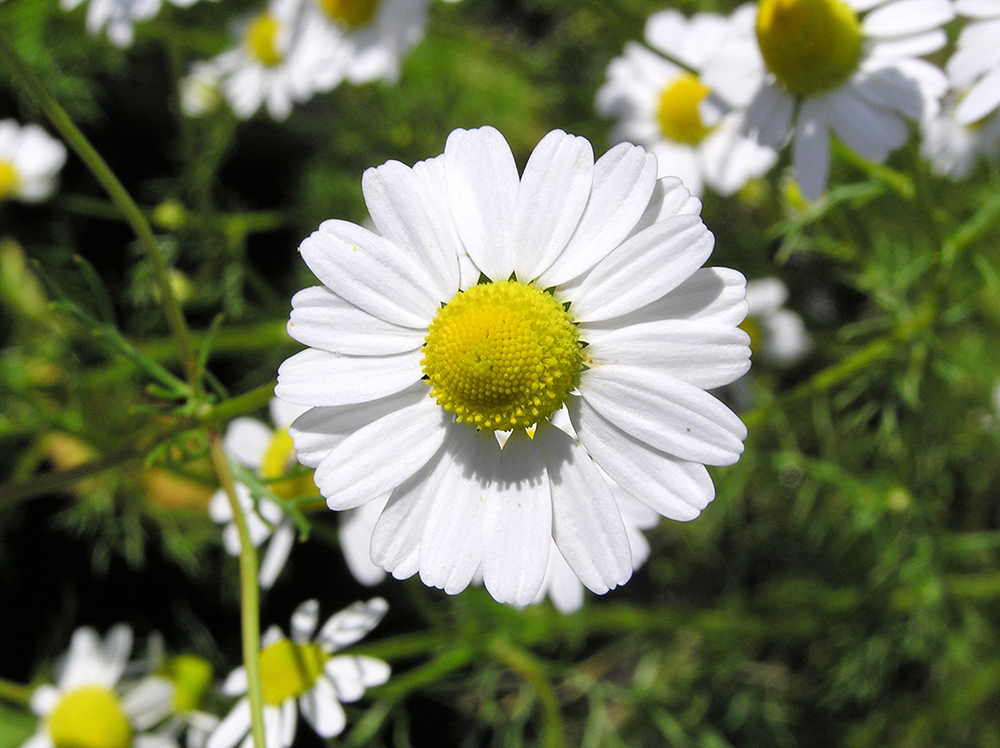 Just like all essential oils (wild, organic, or synthetic) German/Blue chamomile oil should be used only for external purposes and not ingested in any form. It is also essential to dilute the oil in a carrier oil or alcohol base before using it.
Here are some great ways to use Blue Chamomile essential oil.
Relaxing Bath Oil
A quick way to benefit from the calming and mildly cleansing properties of chamomile oil is to add 1 drops of the Blue Chamomile oil with 5 drops of jojoba oil in your bath together with your favourite herbal wash, and bath salts. You can also use Blue Chamomile hydrolate inbaby's or child's bathtub diluted this way to calm them and boost their immunity.
Healing Massage Oil
Make your own healing massage oil by adding 2-3 drops of chamomile essential oil and lavender oil in carrier base such as jojoba oil, olive oil, almond oil, coconut oil, grapeseed, or safflower oil. Apply and massage a few drops of the mixture on strained muscles and areas affected by pain.
Home Diffuser/Spray
Make your own calming and lightly aromatic spray by adding a few drops of blue chamomile and lavender essential oil into a spray bottle filled with ethanol (alcohol) base. Shake well and spritz the mixture in your space to induce a sense of calmness and add a subtle floral aroma to the atmosphere. You may also spray your bed sheets and pillows with the mixture to promote better sleep.
Sensitive Skin Lotion
If you suffer from sensitive skin or skin inflammation outbreaks such as eczema or rash/urticaria, you may add a couple of drops of Blue essential oil in your daily facial or skin body lotion to get some relief. You can also make a DIY skin serum by mixing 6 drops of chamomile oil with 15 ml of oil base such as jojoba, almond oil, or tamanu.
Blue Chamomile Oil Precautions
Blue chamomile oil is generally safe and unlikely to cause any adverse side effects, as long as it is diluted and applied properly. However, it has a low risk of causing allergies in some people who are sensitive to certain herbs/ plants belonging to the "Aster" (daisy-like) family. If you experience allergic reactions such as skin irritation, trouble breathing, and vomiting, discontinue use and contact a doctor immediately. Chamomile extract may also interfere with the anti-inflammatory drugs "warfarin" and "cyclosporine".
What To Check Before Buying Blue Chamomile Oil In Singapore
If you looking for a potent and high-quality Blue chamomile oil in Singapore, make sure it displays the following:
99-100% Purity. A pure Blue Chamomile essential oil will have an organic or wild badge on its label with a purity that reaches 99-100%.
Wild origins. A high-quality Blue Chamomile oil will be crafted from wild sources in European or Asian countries where the plant grows natively e.g Germany, Netherlands, France, India, Nepal, and Singapore.
Proper product description. A great quality chamomile oil product will provide you with a detailed description that includes the essential oil characteristics, origin, cultivation method, usage, benefits, and precautions.
Where To Buy Best Blue Chamomile Oil For Users In Singapore
If you are looking for the best quality Blue/German chamomile essential oil in Singapore that follows all criteria of quality as explained above, check the Blue chamomile range at oshadhi.sg.